Professional Directory
The professional directory provides a way of finding Full REPA Members using a variety of different search parameters.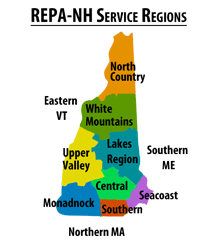 Use the Search Tools to the right to add filters to the list. For example, if you want to only see Members who offer services in your area, click on the Service Region header, select the region you want, and click the "Go" button. The list will show only those REPA Members who offer services in the area(s) you chose.
The Qualifications field is to search for Members qualifications, such as "HERS Rater" or "Energy Star" or "Planning" etc.
To see a Members full profile, just click on their last name in the list below.
| Last Name | First Name | Organization | Based in |
| --- | --- | --- | --- |
| Alexander | TJ | Thermo Building Services LLC | Sunapee |
| Cole | Russell | Home Energy Remedies | Douglas |
| Duncan | Andy | Lakes Region Community College | Laconia |
| Eldredge | Bob | ABC Energy Savings, LLC | Concord |
| Garrison | Elijah | ReVision Energy | Concord |
| Gray | Andrew | Horizon Energy | Concord |
| Johnson | Chris | NH Electric Cooperative | Plymouth |
| Joy | Michael | Mill City Energy | Manchester |
| LaMoreaux | Phil | NH Electric Cooperative | Plymouth |
| Lawrence | Andrew | VH Energy, HPNH | Sanbornton |
| Lenahan | Tim | Independent | Auburn |
| Prausa | Charles | Smart Energy Use, LLC | Meredith |
| Reals, Jr. | Bob | Liberty Utilities - Electric & Natural Gas | Londonderry |
| Richardson | Gil | Empowered Answers, LLC | Pike |
| Sand | Stacy | Go Green Energy Audits | Intervale |
| Schippani | Jon | Building Efficiencies LLC | Nashua |
| Tekin | Peter | Tekin Home Services, LLC | Hudson |
| Tortorice | Bob | Building Alternatives Inc | Franconia |
| Weglarz, Jr. | Steve | Advanced Building Analysis, LLC | Durham |